Using a coupon code is an exciting way to get started with MySwimPro!


To Redeem Code:

1) Head to www.MySwimPro.com/elite
2) Choose the yearly option
3) Choose start 7 day trial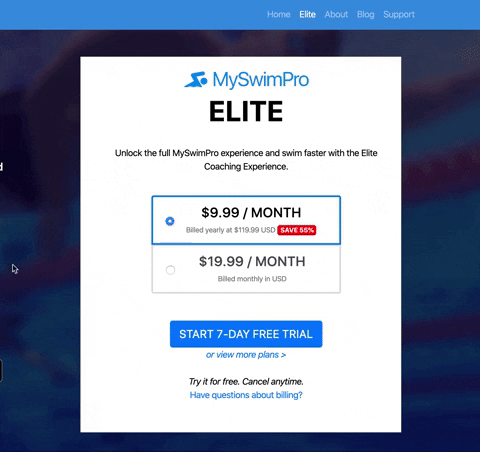 4) Login or Sign up- make sure to use same exact login ( Capitalizations matter) any other login will create a new account- if you don't already have an account, use the sign up option. Just make sure to remember the exact login to use when opening up the app later)
5) Enter in Card information ( card will not be charged until after the Trial ends)
6) enter in coupon
7) Hit Submit
8) Open up the app and you should now have access to all of the features!

See also: Getting Started On MySwimPro
Need Support?
Our Community Champion would love to help! Contact us at support@myswimpro.com
Or check out our app tutorials!

MySwimPro Android Tutorials
MySwimPro iOS Tutorials